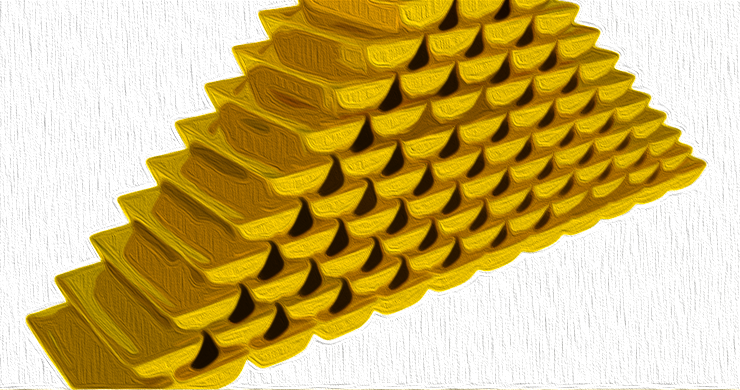 Notable economist and gold enthusiast, Peter Schiff, has ignited controversy by launching an attack on the relevance and usefulness of Bitcoin in the modern economy. Schiff's comments cast doubt on Bitcoin's value, branding its proponents as almost fanatical in their attempts to persuade others to invest in the cryptocurrency.
Peter Schiff's Bold Assertion: Bitcoin is Void
Schiff, who serves as the chief economist and global strategist at Europac, has expressed his skepticism about Bitcoin's perceived utility and scarcity. In a recent public statement, Schiff argued that Bitcoin is fundamentally purposeless, likening its supporters to a fanatical group.
In Schiff's words, "No one requires Bitcoin. Individuals only purchase it after being persuaded by another. Once they own it, they then begin to persuade others to buy as well. It resembles a fanatical group."
Schiff's comments were made in response to remarks by Galaxy Digital CEO Mike Novogratz during an interview on CNBC's Squawk Box. Novogratz suggested that Bitcoin is "always sold, not bought," with institutions guiding newcomers through their initial Bitcoin purchases and explaining the concept.
Schiff has consistently been a critic of Bitcoin, previously characterizing it as a scam, an undesirable digital collectible, and emphasizing that there are numerous other ways to lose money besides investing in Bitcoin.
Bitcoin's Scarcity: A Matter of Debate
Schiff further questioned Bitcoin's touted scarcity, challenging the value this property supposedly brings to the digital currency. When a follower claimed that Bitcoin was "digital gold" and a "finite resource with unlimited fiat chasing," Schiff retorted, "Bitcoin is not a resource. It's nothing. There are also 2.1 quadrillion Sats. So there is plenty of nothings to go around."
When another user compared Bitcoin to gold, suggesting that, like Bitcoin, gold is also sold rather than bought, and gold traders also urge others to purchase gold, Schiff dismissed the claim, stating that the commenter clearly understood "nothing about gold."
A different user posited that Bitcoin holds value for individuals living in areas plagued by high inflation or those who are unable to open a bank account. They argued that "possession of gold would make them a target. Not to mention that a swift evacuation with gold is nearly impossible and completely impractical."
What are your thoughts about Peter Schiff's perspective on Bitcoin and its application? Let us know in the comments section below.
Frequently Asked Questions
What Precious Metals Can You Invest in for Retirement?

Silver and gold are two of the most valuable precious metals. They're both easy to buy and sell and have been around forever. You should add them to your portfolio if you are looking to diversify.
Gold: The oldest form of currency known to man is gold. It is very stable and secure. It is a good way for wealth preservation during uncertain times.
Silver: Silver has always been popular among investors. It's an ideal choice for those who prefer to avoid volatility. Silver is more volatile than gold. It tends to rise rather than fall.
Platinum: This precious metal is also becoming more popular. It's like silver or gold in that it is durable and resistant to corrosion. It's however much more costly than any of its counterparts.
Rhodium – Rhodium is used to make catalytic conversions. It is also used for jewelry making. It is relatively affordable when compared to other types.
Palladium – Palladium is an alternative to platinum that's more common but less scarce. It is also cheaper. Investors looking to add precious and rare metals to their portfolios love it for these reasons.
Do you need to open a Precious Metal IRA

It is essential to be aware of the fact that precious metals do not have insurance coverage before opening an IRA. You cannot recover any money you have invested. This includes all investments that are lost to theft, fire, flood, or other causes.
You can protect yourself against such losses by purchasing physical gold and silver coins. These items have been around for thousands of years and represent real value that cannot be lost. They are likely to fetch more today than the price you paid for them in their original form.
If you decide to open an IRA account, choose a reputable company that offers competitive rates and products. It is also a smart idea to use a third-party trustee who will help you have access to your assets at all times.
When you open an account, keep in mind that you won't receive any returns until your retirement. Do not forget about the future!
How much money should my Roth IRA be funded?

Roth IRAs are retirement accounts where you deposit your own money tax-free. These accounts are not allowed to be withdrawn before the age of 59 1/2. There are some rules that you need to keep in mind if you want to withdraw funds from these accounts before you reach 59 1/2. First, you cannot touch your principal (the original amount deposited). No matter how much money you contribute, you cannot take out more than was originally deposited to the account. If you decide to withdraw more money than what you contributed initially, you will need to pay taxes.
The second rule states that income taxes must be paid before you can withdraw earnings. You will pay income taxes when you withdraw your earnings. Let's suppose that you contribute $5,000 annually to your Roth IRA. Let's further assume you earn $10,000 annually after contributing. On the earnings, you would be responsible for $3,500 federal income taxes. You would have $6,500 less. Since you're limited to taking out only what you initially contributed, that's all you could take out.
Therefore, even if you take $4,000 out of your earnings you still owe taxes on $1,500. In addition, 50% of your earnings will be subject to tax again (half of 40%). So even though you received $7,000 in Roth IRA contributions, you only received $4,000.
Two types of Roth IRAs are available: Roth and traditional. A traditional IRA allows you to deduct pre-tax contributions from your taxable income. Your traditional IRA allows you to withdraw your entire contribution plus any interest. You can withdraw as much as you want from a traditional IRA.
Roth IRAs won't let you deduct your contributions. However, once you retire, you can withdraw your entire contribution plus accrued interest. There is no minimum withdrawal amount, unlike traditional IRAs. You don't have to wait for your turn 70 1/2 years before you can withdraw your contributions.
How much gold do you need in your portfolio?

The amount that you want to invest will dictate how much money it takes. Start small with $5k-10k. As you grow, you can move into an office and rent out desks. This will allow you to pay rent monthly, and not worry about it all at once. It's only one monthly payment.
Consider what type of business your company will be running. In my case, we charge clients between $1000-2000/month, depending on what they order. Consider how much you expect to make from each client, if you decide to do this kinda thing.
If you are doing freelance work, you probably won't have a monthly salary like I do because the project pays freelancers. You might get paid only once every six months.
So you need to decide what kind of income you want to generate before you know how much gold you will need.
I recommend starting with $1k-$2k of gold and growing from there.
Should You Buy or Sell Gold?

In the past, gold was considered a haven for investors during economic turmoil. Many people are shifting away from traditional investments like bonds or stocks to instead look toward precious metals such gold.
Gold prices have been on an upward trend over recent years, but they remain relatively low compared to other commodities such as oil and silver.
Some experts believe that this could change very soon. They say that gold prices could rise dramatically with another global financial crisis.
They also noted that gold is growing in popularity because of its perceived value as well as potential return.
Consider these things if you are thinking of investing in gold.
First, consider whether or not you need the money you're saving for retirement. You can save money for retirement even if you don't invest in gold. That said, gold does provide an additional layer of protection when you reach retirement age.
You should also be aware of what you are getting into before you buy gold. There are many types of gold IRA accounts. Each one offers different levels security and flexibility.
Keep in mind that gold may not be as secure as a bank deposit. Your gold coins may be lost and you might never get them back.
You should do your research before buying gold. If you already have gold, make sure you protect it.
How does gold perform as an investment?

Supply and demand determine the gold price. It is also affected by interest rates.
Due to limited supplies, gold prices are subject to volatility. Physical gold is not always in stock.
How much of your IRA should include precious metals?

You should remember that precious metals are not only for the wealthy. They don't require you to be wealthy to invest in them. You can actually make money without spending a lot on gold or silver investments.
You might also be interested in buying physical coins, such bullion rounds or bars. It is possible to also purchase shares in companies that make precious metals. Your retirement plan provider may offer an IRA rollingover program.
You will still reap the benefits of owning precious metals, regardless of which option you choose. Even though they aren't stocks, they still offer the possibility of long-term growth.
Their prices rise with time, which is a different to traditional investments. This means that if you decide on selling your investment later, you'll likely get more profit than you would with traditional investing.
Statistics
External Links
How To
The History of Gold as an Asset

From the very beginning of time, gold was a currency. It was widely accepted around the world and enjoyed its purity, divisibility and uniformity. In addition, because of its value, it was traded internationally. However, since there were no international standards for measuring gold at this point, different weights and measures existed worldwide. For example, in England, one pound sterling was equal to 24 carats of silver; in France, one livre tournois was equal to 25 carats of gold; in Germany, one mark was equal to 28 carats of gold; etc.
In the 1860s, the United States began to issue American coins made from 90% copper, 10% Zinc, and 0.942 Fine Gold. This led to a decrease of demand for foreign currencies which in turn caused their prices to rise. In this period, large amounts of gold coin were minted by the United States, which caused the gold price to drop. The U.S. government was unable to pay its debts due to too much money being in circulation. They sold some of their excess gold to Europe to pay off the debt.
Because most European countries did not trust the U.S. dollar, they started accepting gold as payment. After World War I, however, many European countries started using paper money to replace gold. Since then, the price of gold has increased significantly. Even though gold's price fluctuates, it is still one of the most secure investments you could make.
—————————————————————————————————————————————————————————————-
By: Sergio Goschenko
Title: The Bitcoin Debate: A Controversial View from Peter Schiff
Sourced From: news.bitcoin.com/peter-schiff-no-one-needs-bitcoin/
Published Date: Fri, 20 Oct 2023 08:00:45 +0000