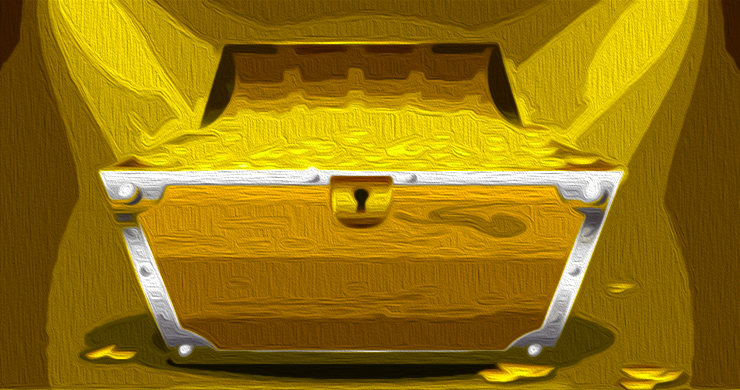 Renowned 'Rich Dad Poor Dad' author, Robert Kiyosaki, anticipates a significant rise in Bitcoin's value, reaching up to $135,000. Additionally, he predicts a substantial increase in the price of gold, potentially reaching $3,700 soon. Conversely, he has expressed concerns about the future of U.S. dollar savers, referring to the currency as "counterfeit money."
Kiyosaki's Forecasts on Bitcoin, Gold, and Silver
Robert Kiyosaki, the acclaimed author of 'Rich Dad Poor Dad', recently expressed his predictions on the potential future values of gold, silver, and bitcoin on a social media platform. His best-selling book, 'Rich Dad Poor Dad', co-authored with Sharon Lechter in 1997, has been featured on the New York Times Best Seller List for over six years. The book has sold more than 32 million copies in 51 different languages and across over 109 countries.
"Gold is on the verge of breaking the $2,100 barrier and then it will skyrocket. You'll regret not buying gold when it was below $2,000. Up next, gold at $3,700," Kiyosaki penned. He also projects that the value of silver will go from $23 to $68 per ounce. The famous author further stated:
"Bitcoin is testing the $30,000 mark. The next target for Bitcoin is $135,000… Those saving in counterfeit dollars are doomed. Please urge your friends to 'wake up.' Stay safe."
Kiyosaki's Views on Inflation, Fiat Currency, and Cryptocurrency
Earlier this week, Kiyosaki elaborated on his views on inflation, stating, "Inflation impoverishes the poor and middle class as they work for and save dollars. However, inflation enriches the wealthy. Why? Because the rich of today work for and save in gold, silver, and bitcoin." He often refers to fiat money, such as the USD, as "counterfeit money," considering gold and silver as "God's money" and bitcoin as "the people's money."
Kiyosaki has repeatedly expressed his belief in the future of cryptocurrency, foretelling the downfall of fiat currency. He has consistently warned about the possible downfall of the U.S. dollar.
Kiyosaki's Previous Predictions and Future Expectations
Last month, Kiyosaki expressed his belief that bitcoin will "become priceless" when the Federal Reserve introduces a central bank digital currency (CBDC). He also urged investors to buy BTC now, predicting a surge in demand for cryptocurrency as stock, bond, and real estate markets plummet.
Kiyosaki has previously forecasted the prices of bitcoin, gold, and silver. In August, he predicted that in the event of a global economic crisis, the value of bitcoin could skyrocket to $1 million, with gold reaching $75,000, and silver rising to $60,000. In February, he forecasted that the value of bitcoin would reach $500,000 by 2025, with gold anticipated to rise to $5,000 and silver projected to reach $500 within the same timeframe.
What are your thoughts on Robert Kiyosaki's predictions for the values of bitcoin, gold, and silver? Share your views in the comments section below.
Frequently Asked Questions
How Much of Your IRA Should Include Precious Metals?

You should remember that precious metals are not only for the wealthy. They don't require you to be wealthy to invest in them. There are many methods to make money off of silver and gold investments.
You could also consider buying physical coins like bullion bars, rounds or bullion bars. Also, you could buy shares in companies producing precious metals. Your retirement plan provider may offer an IRA rollingover program.
Regardless of your choice, you'll still benefit from owning precious metals. They are not stocks but offer long-term growth.
And unlike traditional investments, they tend to increase in value over time. You'll probably make more money if your investment is sold down the line than traditional investments.
Is gold a good IRA investment?

Anyone who is looking to save money can make gold an excellent investment. You can diversify your portfolio with gold. But there is more to gold than meets the eye.
It's been used as a form of payment throughout history. It's sometimes called "the world's oldest money".
But gold is mined from the earth, unlike paper currencies that governments create. It's hard to find and very rare, making it extremely valuable.
Gold prices fluctuate based on demand and supply. If the economy is strong, people will spend more money which means less people can mine gold. As a result, the value of gold goes up.
On the other hand, people will save cash when the economy slows and not spend it. This results in more gold being produced, which drives down its value.
This is why both individuals as well as businesses can benefit from investing in gold. If you have gold to invest, you will reap the rewards when the economy expands.
Also, your investments will earn you interest which can help increase your wealth. You won't lose your money if gold prices drop.
How Does Gold Perform as an Investment?

Gold's price fluctuates depending on the supply and demand. It is also affected negatively by interest rates.
Due to the limited supply of gold, prices for gold are highly volatile. Additionally, physical gold can be volatile because it must be stored somewhere.
Is buying gold a good option for retirement planning?

Although it may not look appealing at first, buying gold for investment is worth considering when you consider the global average gold consumption per year.
Physical bullion is the most popular method of investing in gold. There are many ways to invest your gold. You should research all options thoroughly before making a decision on which option you prefer.
If you don't need a safe place for your wealth, then buying shares of mining companies or companies that extract it might be a better alternative. If you require cash flow, gold stocks can work well.
You can also put your money in exchange traded funds (ETFs). These funds allow you to be exposed to the price and value of gold by holding gold related securities. These ETFs may include stocks that are owned by gold miners or precious metals refining companies as well as commodity trading firms.
What are the advantages of a IRA with a gold component?

There are many advantages to a gold IRA. It's an investment vehicle that allows you to diversify your portfolio. You decide how much money you want to put into each account, and when you want it to be withdrawn.
You also have the option to roll over funds from other retirement accounts into a gold IRA. This is a great way to make a smooth transition if you want to retire earlier.
The best part about gold IRAs? You don't have to be an expert. They're readily available at almost all banks and brokerage firms. You do not need to worry about fees and penalties when you withdraw money.
But there are downsides. Gold is historically volatile. So it's essential to understand why you're investing in gold. Do you want safety or growth? Is it for insurance purposes or a long-term strategy? Only by knowing the answer, you will be able to make an informed choice.
If you plan to keep your gold IRA indefinitely, you'll probably want to consider buying more than one ounce of gold. A single ounce isn't enough to cover all of your needs. You may need several ounces, depending on what you intend to do with your precious gold.
If you're planning to sell off your gold, you don't necessarily need a large amount. You can even live with just one ounce. But, those funds will not allow you to buy anything.
Statistics
External Links
How To
Tips for Investing Gold

One of the most sought-after investment strategies is investing in gold. This is because there are many benefits if you choose to invest in gold. There are several ways to invest in gold. Some people choose to purchase gold coins physically, while some prefer to invest with gold ETFs.
You should consider some things before you decide to purchase any type of gold.
First, you must check whether your country allows you to own gold. If you have permission to possess gold in your country, you can then proceed. Or, you might consider buying gold overseas.
Second, it is important to know which type of gold coin you are looking for. You have options: you can choose from yellow gold, white or rose gold.
Thirdly, you should take into consideration the price of gold. It is better to start small, and then work your way up. When purchasing gold, diversify your portfolio. Diversifying assets should include stocks, bonds real estate mutual funds and commodities.
You should also remember that gold prices can change often. It is important to stay up-to-date with the latest trends.
—————————————————————————————————————————————————————————————-
By: Kevin Helms
Title: Bitcoin Predicted to Surge to $135,000, Gold Expected to Skyrocket, According to Robert Kiyosaki
Sourced From: news.bitcoin.com/robert-kiyosaki-says-bitcoin-headed-for-135000-while-gold-will-soon-take-off/
Published Date: Sat, 21 Oct 2023 23:30:15 +0000